The Kerbalarity system (Very large)
Motis: a 27 degree inclined planet, with almost no eccentricity, has breathable but extremely thick atmosphere. (Has one asteroid moon called "Borealis"
Fousil: Similar to Duna conditions, this planet has a very thin atmosphere and is the color of cherries, with liquid water lakes all over. (One asteroid moon called Aquarea)
Delta: A kerbin like rocheworld, meaning it contains two binary planets
that are so close together they share a collumn of rock between them. (2 moons, Hanuca and Damu, both are the size of the mun)
Isiros: Ice world with no atmosphere, and one instresting feature (Has one moon called Hamarkis [Hamarkis has a moon moon the size of minmus called Nirgal, both are named after features on Mars])
Roria: Tiny planet, similar to the color of minmus, with orange cracks all over. it has a 1 km deep canyon that stretches across the planet between the poles. It orbits near where Dres would be, and is extremely inclinated at 46 degrees and has an eccentricity of 0.3 (no moons)
Diplomia: 3 Jool mass gas giant, it is striped with bright orange and cream colored bands. It is flipped on its side, with its South Pole facing the sun. (3 large moons, Oahuo [larger version of laythe], Ionospha, and Tektap (4 times bigger than tylo)
Tectonica: Small blue gas giant around the size of Eve, it just barely qualifies as a gas giant, with a very thin atmosphere when compared to gas giants like Jool or Sarnus. It is actually able to be landed on, as it has large floating chunks of low density rock that float in its atmosphere, supported by the thicker liquid methane atmosphere below. (One moon: Aurora, with a mass similar to Moho. It has a almost atmosphere and only 2 islands, surrounded by liquid fuel oceans)
Soraloa: The largest planet, this planet which is 10 times the size of Jool, has a light blue and purple atmosphere. It has 6 moons, Echo, Halo, Rheon, Rainbow, and Quote. All are asteroid moons except Halo and Quote, which are great for gravity assists into Soraloa orbit.
Areoatla: Jool sized rocky planet, this appeared to be a habitable super-kerbin before migrating to the outer system and freezing. It has a retrograde moon called Ala which is about the size of kerbin, Ala is great for a challenging mission if you want to make an impressive surface base in one of its many caves and lava tubes.
Utoia: Moho sized planet, it is on a almost solar system escaping trajectory. It's orbit takes 200 times the amount of time as eeloo. It's periapsis is just above the orbital height of Areoatla, and apoapis is 30 times that distance. Has 2 moons, Opop and Dyso.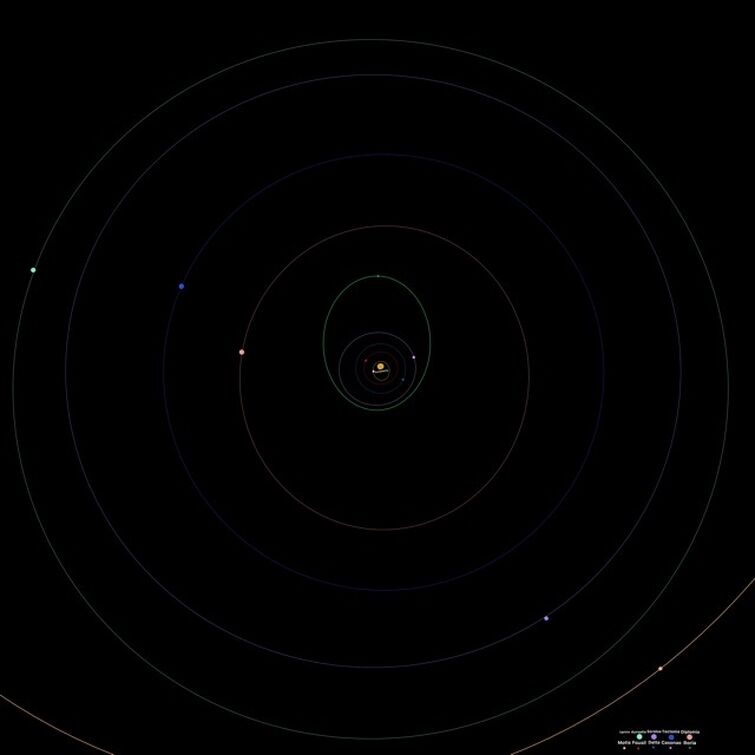 Full system view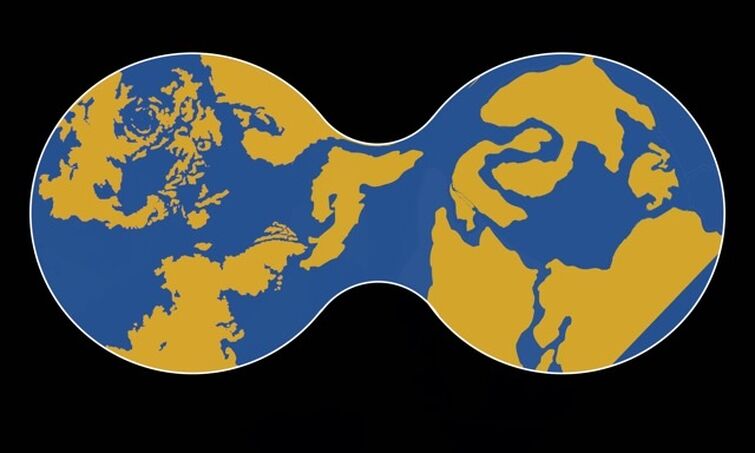 The two planets that make up Delta