The Kelaris System is a ternary star system consisting of two F-type (Yellow-White) stars and one G-type (yellow) star: Kelaris (F7 Supergiant), Kirlim (F6V), and Kerbos (F8V).
Properties
TBA
List of Bodies
At the moment, the Kelaris System consists of 3 stars: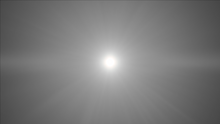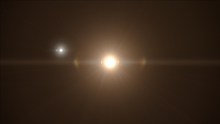 Trivia
The Kelaris System is one of two ternary (or trinary) star systems in the Kermes Cluster, with the other system being Nova Kirbani.
The Kelaris System, when seen from Kerbin, is always aligned with the north pole. This is why Kelaris is often referred to as the "North Star".

With Kerbin's shifting axial tilt, eventually the North Star will no longer be Kelnis, but something different.

The Kelaris System is the brightest star system that can be seen from Kerbin.